Why Choose Lucinda Ellery?
What Makes Us Different?
These are some of the developments we've implemented along the way which have contributed to our becoming the largest hair loss management provider of our type in the UK, but which have ensured that we've retained the all-important personal touch.
Exclusively for Women

Lucinda Ellery Consultancy was the first company in the UK dedicated to exclusively helping women manage hair loss and thinning hair. Our services are not available to men.

A Positive Environment

We've created a positive uplifting environment which is stylish and welcoming at all of our locations. Our clients tell us that this makes having their hair attended to a pleasure rather than something to be feared at a medical clinic, and gives the women who visit us a feeling of normality which they've often lost if they feel too embarrassed to visit a normal hairdressers.

Three Different Hair Types

We are the only company in the UK offering three different hair types, so we really can personalise your new hair - whether using one of the Intralace System™ options or Medi Connections. We offer Indian Temple hair, Virgin European hair and naturally curly Brazilian hair that can be worn both straight and curly.

Handmade Bespoke Components

It's important to us to aspire to the highest quality hair loss management system at Lucinda Ellery. This is why we are the only company providing a personalised integrated hair loss system that uses handmade bespoke components to create the Intralace™. We will never cut sections from wigs and attempt to integrate this with our system as although this is a far less costly way of working, it's inferior in every way including quality and realism.

Complimentary Styling Lessons

We offer complimentary styling lessons available to all clients - provided by our dedicated team of professional stylists. This gives our clients the skills and confidence to keep their hair looking fabulous.

Natural Hair Line

Lucinda Ellery is the only company in the world offering an integrated strand-by-strand hair loss management system using an advanced, amazingly natural looking prosthetic hair line which offers incredible realism even from a few inches away. Our natural hair line options are used by hundreds of Lucinda Ellery clients, eliminating the need to have a fringe, though this option can still be used with a fringe or part fringe, swept to the side fringe etc. Windy conditions are not a problem!
Hair Partings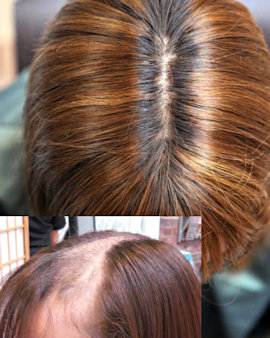 Intralace System using the Silk based hair parting LF15
Intralace System using the Natural Hair Line parting LF6
Click/Touch the images for larger versions
Handmade Silk Based Hair Parting
We are also the only company using handmade silk based hair parting components to complete the finished look of the Intralace (available for clients not using the 'Natural Hair Line Parting') This is available in two different densities and four different skin shades. As the hair parting area, and how real this looks, is such a very important part of your new hair experience, the new Intralace™ LF15 light density parting is a breakthrough for us. It offers the most authentic looking scalp effect available and is exclusive to Lucinda Ellery clients.
Three Different Mesh Colours
Lucinda Ellery offers three different hypo-allergenic foundation mesh colours to match your hair colour. Why? Because if you have dark hair, using a blonde or skin coloured mesh foundation material (which was the only colour available even to us prior to 2010) is not going to disappear through your hair colour. This is another important step forward for our clients' user experience.
Consultations That Inform
At The Lucinda Ellery Consultancy we offer a private consultation service where not only do we advise you about a range of options we can offer, but just as importantly, we offer information about the options not available at Lucinda Ellery - because we care about you receiving the very best advice that is suited to your needs and that gives you a broad understanding of your choices.
Solutions That Look Natural
During the mid 1980's we pioneered the Intralace System™ for helping women manage difficult hair loss situations, at a time when very little help was available to women with hair issues. It's a solution that's all about being able to have beautiful hair regardless of your natural hair. And we're continuing to develop it.
A Sympathetic Environment
But it's not just about systems – it's about providing a sympathetic environment that puts our clients at ease and gives them the confidence to see their hair as something to be enjoyed rather than as a source of worry.