Women's Hair Loss Replacement - The Intralace Freewear System
™
The Intralace Freewear System™ offered by Lucinda Ellery is a variation of our successful Intralace System™, and is most suited to clients with total hair loss (Alopecia Totalis). It can also be a good option if you are looking for an alternative to a wig.
While in the past we used traditional hair replacement systems, these are usually supplied from overseas and can take a long time to produce. Multiple systems are also required to allow for repairs and replacements, which can prove hugely costly for you.
The innovative Intralace Freewear System™ is different on many levels.
For starters, clients only require one system, rather than ordering several back-ups as most do when using more traditional hair replacement methods. Secondly, the Intralace System™ is exclusive and unique to Lucinda Ellery, so you can relax in the knowledge you will receive outstanding and individually tailored service at our studios. We will look after all of your hair needs as and when they are required.
The Intralace Freewear System™ is held in place with both medical-style tape and a liquid adhesive that is kind to the skin. With this system, you have the option of having a natural parting or natural side hairline panels, which give you flexibility with styling. You don't have to have a fringe, and you can confidently tuck the hair behind your ears, while you can also sleep, wash and dry your hair as if it is your own. Crucially, you can simply replace the adhesive and tape at home by yourself – and we will show you exactly how to do this. Once you have mastered the techniques, you will find that the Intralace Freewear System™ effortlessly becomes part of your life.
It is durable for two years, before being completely replaced. We think you will agree that as a wig alternative, it allows you real freedom and the ability to have a totally natural hairline.
View more examples on the Hair Replacement Gallery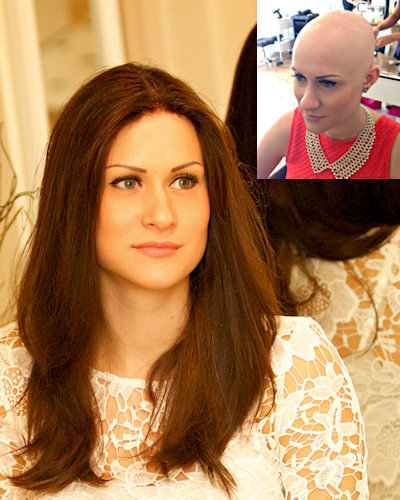 Imogen