Directions to the Lucinda Ellery Studio in Manchester
Old Exchange Building
29-31 King Street
Manchester M2 6BE
Opening hours: 9am – 6pm Tuesdays – Fridays and 10am – 5pm on Saturdays
Travelling into Manchester by train to Piccadily Station
Exit Manchester Piccadilly Station
Walk down Piccadilly approach to Piccadilly Gardens and walk through Market Street.
Stay on Market Street for approximately 5 minutes and then turn left onto Cross Street.
Take the second road on the right onto King Street.
Walk down King Street for 100 metres and on the right hand side is Hermes.
Turn right immediately after into St Ann's Passage.
The Lucinda Ellery entrance is on the left inside St Ann's Passage
Lucinda Ellery's Manchester entrance is located in between Hancock's Jewellery through St Ann's passage off King Street. Hermès can be seen opposite Hancock's Jewellery. When you enter the Old Exchange in St Ann's passage, 'Lucinda Ellery Consultancy', is clearly marked on a wooden board where you will be required to ring a door bell and walk up stairs or take the lift as we are on the first floor. TM Lewin is directly opposite the Old Exchange Building.
Travelling into Manchester by Car
FINDING PARKING - Manchester King Street West Multi-Storey
Parking charges
£3.30 – 1 Hour
£6.60 – 2 Hours
£13.20 – 4 Hours
£20.00 – 6 Hours
£25.00 – Day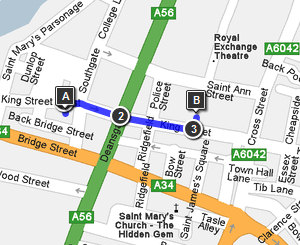 Walking to the Studio from the Car Park
Depart on King Street West and cross over Deansgate Road.
Continue onto King Street Walk down King Street for 100 metres and on the right hand side is Hermes.
Turn right immediately after into St Ann's Passage.
The Lucinda Ellery entrance is on the left inside St Ann's Passage.
Download a printable pdf version of these directions