Manchester Hair Loss Studio - Contact Details and Facilities
Location
Lucinda Ellery Consultancy
Old Exchange Building, 29-31 King Street
Manchester, M2 6BE
Tel: 0161 359 3345 Call
Opening Hours
Studio hours
9-5.30 Tuesday to Friday
9-4.00 Saturday
Closed Sun/Mon
Phone lines open
9.00 - 5.30 Tuesday to Friday
9.00 - 4.30 Saturday
Closed Sun/Mon
Studio Services
The Manchester studio offers the full range of our techniques for disguising all types of hair loss, including;
Alopecia Areata
Female Pattern Hair Loss
Trichotillomania
Telogen Effluvium
Frontal Fibrosing Alopecia
Lichen Planopilaris
Intralace systems, Medi Connections and Intralace Minima systems are available at this location.
Additional Facilities
For your comfort and convenience we offer the following facilities:
Wi-Fi
Complimentary drinks including wine and cocktails
Lunch delivery service
Snack basket (at certain times of day)
DVD library
Send an Enquiry
Parking
Details of car parking available in the area:
The nearest car parking is at Manchester King Street West Multi-Storey car park. Unfortunately Google maps locates this erroneously some distance to the north. The map on the Directions page shows some of the other car parks and may still be helpful for following the directions.
Charges
£3.30 – 1 Hour
£6.60 – 2 Hours
£13.20 – 4 Hours
£20.00 – 6 Hours
£25.00 – Day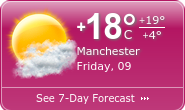 Local Restaurants
Clients wishing to eat in the area may find the following list of restaurants useful:
Local Accommodation
For clients who wish to stay in Manchester overnight, the following list of nearby hotels may prove useful: