Using the Intralace System during or post Chemotherapy treatment
It may take several weeks after Chemotherapy treatment for your hair to recover and begin growing again. When your hair starts to grow back, it will probably be slightly different from the hair you lost. But the difference is usually temporary. Your new hair might have a different texture or colour. It might be curlier than it was before, or it could be grey until the cells that control the pigment in your hair begin functioning again.
Using the Intralace System during or after your treatment will not inhibit any regrowth. It will not add to the hair loss during this period as the hair will have lost its stability and will fall out regardless of the Intralace System. When regrowth starts then your hair can naturally regrow whilst using the Intralace system.
You can see from these images of Jacquie, taken 6 months after the initial application of the Intralace System, that her own hair has successfully regrown underneath the Intralace System. Jacquie lost 80% of her natural hair during her Chemotherapy treatment.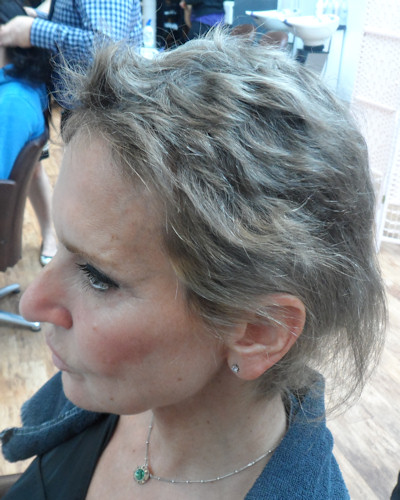 Jacquie's own natural hair 6 months after having the Intralace System fitted. There is good regrowth.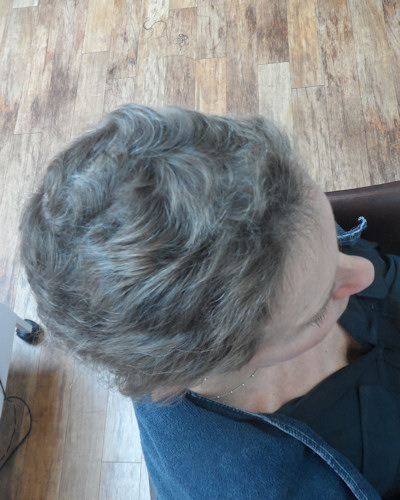 After this assessment Jacquie was then fitted with another system while her own hair continued to regain its length and colour.
Here is what Jacquie had to say when we removed her Intralace system and she saw her own hair for the first time in 6 months!
'I did feel very lucky to have never seen how bad my own hair got and judging by how short most of it was I guess I must have lost most of it'