Frontal Fibrosing Alopecia
Frontal Fibrosing Alopecia, discovered only recently in hair loss terms in 1994, is also known as Scarring Alopecia or Cicatricial Alopecia and has a distinctive clinical pattern of hair loss characterised by progressive recession of the hairline at the front and sides of the scalp.
Disguising the Effects using the Integrated Intralace System
The Intralace System™ effectively disguises the areas of hair loss and when used in conjunction with our revolutionary Natural Hair Line Parting and Natural Hair Line Sides then we can recreate the clients hair line and the system is worn 24/7.
Clients can wash, brush and care for their new hair just like it was their own. It is undetectable to the human eye. The Intralace System can be integrated with the clients' own natural hair immediately behind the affected areas and we use sections of a medical grade tape to secure the immediate front hair line and sides. The system is semi-permanent and unlike a wig it does not need to be removed at night, it becomes part of you and is a very natural looking and manageable way to disguise the effects of FFA.
This client with Frontal Fibrosing Alopecia uses our Intralace System™ with the Natural Hair Line Option. As with all of our clients, this lady washes and brushes her new hair as her own.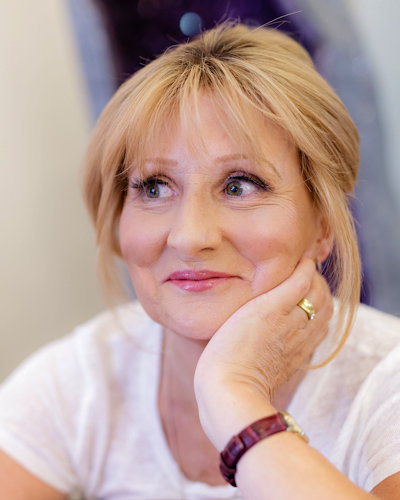 Melanie's alternative look with a fringe
Likely Causes and treatment for FFA
Scientists believe that Frontal Fibrosing Alopecia is a direct result of the immune system attacking an individual's hair follicles, which causes inflammation. This in turn damages the follicle. As the majority of women with FFA have been through the menopause, it is thought that there may be a hormonal link. Frontal fibrosing alopecia is thought to be a variant of lichen planopilaris.
When choosing a treatment it is important to remember that FFA is an irreversible process with a slow course although in some cases it may stabilise after a few years. Currently there is no clearly defined line of treatment. Topical treatments such as steroid gels or creams may be prescribed and a course of antibiotics may help reduce inflammation. Please consult your GP.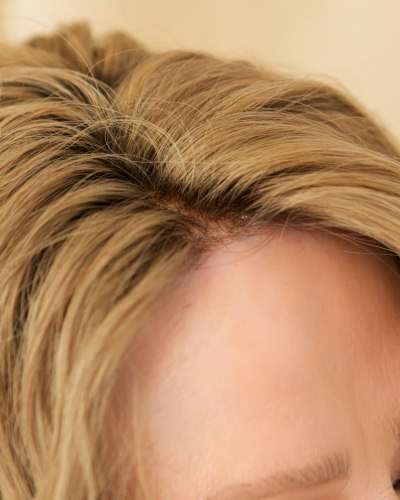 Close-up of the natural hair line
Dr Vicky Joliffe describes FFA
'Frontal Fibrosing Alopecia is a relatively newly described cause of hair loss which has only been recognised over the past 15-20 years. The cause is not known but research worldwide is currently being undertaken to investigate any precipitating causes.
It typically affects peri-menopausal or menopausal women and presents usually with the frontal margin hairline slowly moving backwards. The eyebrows may also become sparser or even disappear. There may be some redness and scaling around the emerging hairs.
Treatment may include anti-inflammatory medication, and/or steroid injections.
Lichen planopilaris is a rare cause of scarring hair loss typically associated with scalp itch or soreness. Redness and scaling of the scalp are common features.
Diagnosis requires a scalp biopsy for confirmation and treatment by a dermatologist is required'
Read Jenny's Story
Jenny had suffered gradual receding of her hairline over many years and had lost much of her confidence and self-esteem becasue of it.
After reading about our approach in a magazine article she decided to come and see us.
Read her story about living with FFA