Jacqui's Story of Female Pattern Hair Loss
My first recollection that I was different to everyone else happened when I was 13 years old. I was standing in the school corridor with a group of friends and someone commented on how wide my parting was, which was followed by stares and laughter all around.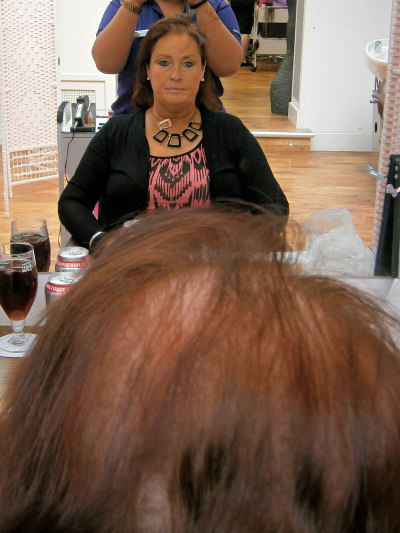 Since then I feel as though I've spent my whole life wishing my hair was different. I would always stare at other people's hair and wonder just what I could do to improve mine.
Countless times I had searched and failed to find a product that actually does what it says on the label but of course they've all disappointed.
Some might say that it's ironic that I went on to become a hairdresser, but over time I became very clever at disguising my thinning hair. I always tried to make sure that people didn't stand above me and I would avoid sitting directly underneath a light because obviously this would highlight how thin my hair was!
To those who know me, l always appeared confident and bubbly but inside I felt the total opposite. It's difficult to find the words to describe how unfeminine, and ugly it made me feel. Even now I find it hard to say the name of my condition but what I believe I suffer from is Female Pattern Hair Loss.
In 1997, after 17 years of marriage I got divorced and a year later I met my current husband Neil. I kept my hair short and would never let him see it wet. Neil would always knock on the door before he walked into the bedroom to make sure that it was ok to come in and in the instance that I wasn't ready I would quickly throw a towel around my head! Bless him, he would never asks or speak about my hair with me, it was like our unspoken taboo.
The year that we got engaged we had watched an episode of 10 Years Younger where a lady had virtually no hair at the front and I was amazed by her transformation with Lucinda Ellery. Neil later turned to me and suggested that I looked into it too. I was horrified and embarrassed because it was our unspoken taboo and I had managed to convince myself that he hadn't noticed.
So in August 2007 I made an appointment to see Lucinda Ellery. Originally I had said no to Neil's offer to join me but then I realised that the time had come to stop pretending and that I must face up to the truth.
When we went to see Lucinda she was just brilliant! After a couple of weeks I called Lucinda to tell her that I had paid my deposit for the Intralace system but that I was finding the scalp makeup really effective as the product filled out the thinning areas in my hair perfectly which made my hair look so thick and full. With this in mind she told me that as I was satisfied with using the scalp makeup I wasn't ready for the Intralace system yet and when I was ready I would know.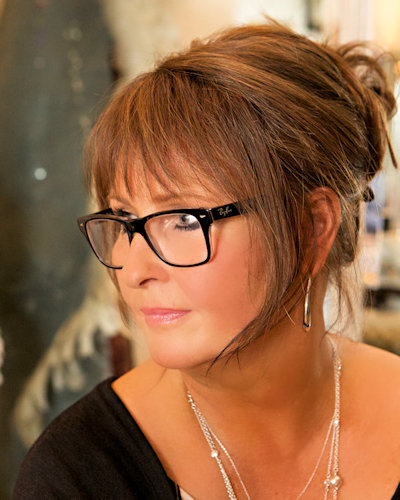 I used that product for 7 years and had managed to grow my hair so that I could put it up and wear various hair pieces and even wigs! In the summertime I was continuously faced with the worry the scalp make up would run if I got too hot and I became so conscious that if I sweated through my hair that it would run down my forehead! It wasn't until July 2014 that I decided the time had finally come to look into a different option for my hair as the thinning had become considerably worse. Two of my children were getting married and again I was filled with the same dread, what would I do with my hair? This is when I had my light bulb moment and Lucinda's words came back to me, I was now ready and more sure than ever before that I had to do something about my hair.
I had my new Intralace done a week before my son's wedding. My whole experience with Lucinda Ellery from start to finish has been totally amazing. The staff are so professional, kind and passionate about helping you change your life and for me that's exactly what it has done. I now look forward to coming into the gorgeous studio every six weeks because you are so completely spoilt. I can remember the day I went to get it fitted I was so so excited, everybody at the studio is so positive and genuinely excited for you and your upcoming transformation.
When it was finally finished I would lie if I didn't say it was overwhelming. I sort of panicked slightly as I had always had hair I could dry in less than 5 mins and here I was with this beautiful mane of hair . But I need not have been concerned as it is so easy to care for. I have had nothing but compliments about how lovely it looks and how different I seem. No more worrying if someone can see the top of my head. Worrying about the weather, if it was raining, windy, hot - all these conditions with fine flimsy hair are a nightmare. Not now!!! My hair does not hold me back. It's the total opposite; I feel younger and definitely much more confident. I cannot express strongly enough how life-changing and enhancing this whole experience has been. The best thing I have ever done.
Jacqui's daughter Katie has been amazed at how her Mum's new hair has transformed her:
" My Mum has always struggled with her hair being fine ever since I can remember, for years she used lots of different tricks to hide the thinning but in 2014 she visited Lucinda Ellery's. This was to change her life forever. In September 2014 I got married and was so proud to have my mum by my side looking totally stunning and feeling the confidence she deserved to feel. Intralace system has changed how my Mum feels inside and this is outwardly visible every day. For anyone considering doing it I wouldn't hesitate to recommend it"