Newsletter August - October 2014
Saying goodbye to Kylie as she heads for Australia
Manchester, Bristol, and Edinburgh
Star letter from an Edinburgh client
Los Angeles - News from across the pond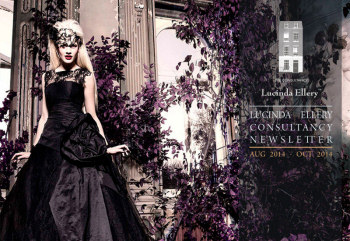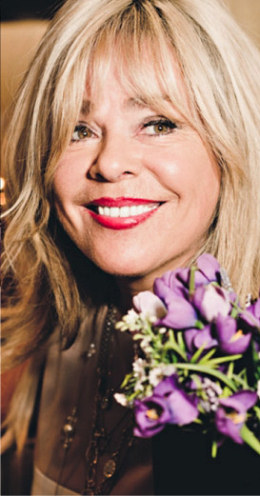 Message from
Lucinda Ellery
I struggle when I think of how to start my letters and you may notice I always start in a similar fashion, talking about you, our amazing clients so here goes........
First and foremost I'd like to thank all of our amazing clients for their cards, letters, and feedback. It never ceases to amaze me and gives our team's great joy. I've often talked to friends and acquaintances that are in the service industry and time and time again I hear stories of difficult, aggressive, complaining clients whilst I see very few. It never ceases to amaze me that they can function effectively with such low demoralising energy; but on the other hand as I listen to them I hear how lucky we all are that somehow I'm only sent angel people that are charming, delightful, kind, appreciative and generous with their praise of the work we do and how much they love coming to us and the environment we have provided for them. I honestly can't imagine working in any other way. Maybe it's a tad sad but I still enjoy my space in the studios with the people I work with and on more than any other space in the world and I consider it a privilege that I love going to work (doesn't feel like work). I love the people I work with, I love the places we operate from and adore our clients. You just simply are the best. I am so grateful for your continued patronage, loyalty and generosity. Thank you, thank you, thank you.
SADLY...
Our lovely Kylie, who has been with me for 10 years, has decided to move on in her journey all the way to Australia.
I am devastated for myself but so happy for her and can already imagine her in her little house on the beach, her energy, expertise, flare, in fact all she is will be missed, thank god for Facetime as I become extremely attached to all the wonderful women who come into my life and bring such joy to my experience. When our girls are on holiday in her part of Australia they will be able to visit her if they need anything done. When I first met Kylie I remember her uncertainties and over the years she has fully developed and matured into a calm, relaxed, powerful young lady and I truly believe whatever she does and wherever she goes she will be loved and remembered for her kindness, dedication, not to mention her superb skills. We all wish her well, good luck and good fortune and she knows, if she ever wants to return, that my door is always open. We will miss you Kylie, here are some little memories from some of your team who have known you a long time.
MARINA
LONDON STUDIO MANAGER
I met Kylie in 2006 and I remember that day very well as she was the first person I met from Lucinda Ellery as she interviewed me. I have worked with Lucinda Ellery for a long time and during this time have assumed different roles and it has always been an amazing feeling to know I have had Kylie next to me, to work with me and to help me both on a personal and professional basis. I will always miss her and I don't mean that to sound cliché because I truly will. Kylie you will always be part of my professional and personal history with Lucinda Ellery.
Good luck.
ROBYN
EDINBURGH STUDIO MANAGER
Kylie, I never did think I'd see the day you spread your wings and flew from our LE family, but it has come. We all say farewell with heavy hearts but we wish you all the best for all your future adventures, I know you will shine brightly in everything you do.
You have been so much more than a colleague over the years, you have become a dear friend, an ear and shoulder when needed and most important someone to throw boxes with. :) I will miss you so much.
DOMONIQUE
MANCHESTER STUDIO MANAGER
Kylie and I first started working together 7 years ago in London..... She took me under her wing and we became great colleagues and friends for the 3 years I was there in London with her. I haven't seen her enough of late but I know she is always there for advice should I need anything. I remember Kylie and I would joke about becoming antique furniture here at Lucinda Ellery.... can 10 years be classed as antique now? I wish you all the best for the future Kylie and LE won't be the same without you".
PRIYA
OPERATIONS MANAGER
I still remember my first day at LE and meeting Kylie and thinking 'Woah she is scary'...... I laugh about that now as how wrong I was. Since working with you Kylie, albeit a short time, I have to say it has been a pleasure. Whether it was in meetings, in the studio or whilst chatting over a glass of wine at the pub it was always great fun when Kylie was around.
Things won't be the same without you. But I am sure we will see you in Australia very soon. Have an amazing time and I wish you all the best in your new life.
OTHER NEWS...
Other news from our studio in London is the amazing announcement that Ewa, studio manager, is pregnant. We are so excited about this and can't wait to meet this new addition to the Lucinda Ellery family. As you can imagine Ewa is overjoyed, she says other than feeling hungry a lot more she is feeling fine....... we are still waiting for a baby bump to show....... I think we could be waiting a while.
MANCHESTER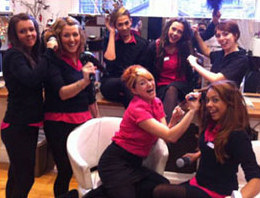 Priya and I had the greatest time in Manchester earlier this month it's always so lovely to see our bright, bubbly Manchester team not to mention our clients. We held our first Manchester TTM evening the turnout was great and we all got to know one another over a glass of wine. It always warms my heart when our clients feel they can share their stories with one another, swap tips, even smile about their management of their TTM. The aim of these evenings is to build support and for all those attendees to realise that you are not alone and that you can indeed live, thrive and survive with TTM. It makes me realise how worthwhile this all really is when I see the phones coming out at the end of the night and see people swapping numbers to keep in touch, this makes me smile and makes me know we have achieved what we set out to. We will be hosting more of these TTM evenings over the coming months, should you want to register your interest please email erin@lucindaellery.com and let us know which location you would be interested in attending and we will be sure you are the first to know as and when we secure our next dates for all locations.
BRISTOL
Bristol is coming along a treat, I have been down there a number of times glamming it up, ensuring that our clients get the Lucinda Ellery feel as soon as they step through the doors. Candles, cushions, sequins and sparkles, the things I love and the things which make our studios so relaxing and inviting to our clients. Bristol is an amazing location and our team there are just doing the most wonderful job.
LOS ANGELES
As usual I spent some wonderful time in LA over the last few months, every time I go to LA I am always inspired by how well our American team are coming on and with the new addition of our receptionist Lena we are a full and wonderful team. I have been spoilt this month with the time I have had to spend with my wonderful Micky, Dax and Chris.
EDINBURGH
Our Edinburgh team have been doing an amazing job as usual; Robyn is leading the team up there and is just creating wonders. With such lovely girls coupled with some of the most fabulous clients I can safely say the Edinburgh studio is fast becoming one of my favourite places to visit. In fact I was there twice in July which was just a treat. The castle, the sunshine, the Scottish charm.... if you haven't visited our Edinburgh studio then you really should.
As my letter draws to a close I notice I am sitting writing in the summer sun with a big smile on my face. These letters allow me to reflect on the last 3 months and what a 3 months it has been. My clients, my teams, my studios, my family, and then I realise why my smile really is so big, you all give me such joy and it is, and will always be a pleasure for me to work alongside you all.
All that is left for me to say is enjoy this wonderful summer, have great holidays if you are going away and I look forward to seeing you all very soon.
Love and hugs

Having spent all of my adult life trying to cope with thin hair, I put Lucinda Ellery in my telephone book after watching a Documentary 'Girls on the Pull' aired on 16th July 2010 on Channel 4.
Over the years I would buy every hair product there was on the market proclaiming to thicken hair, all to no avail. As a retired registered general nurse I have always been interested in health and well being, taking vitamins for hair and nails over long periods of time.
I knew I had a good varied diet and that my health was at its optimum, so I knew my increasingly thinning hair was due to my genes. I suddenly stopped looking for a reason, why my hair was thin, I knew I had inherited this embarrassing, soul destroying, condition from my mum.
I was so envious of others with thick hair "oh if only" "if only I had hair to style" "to brush" "to allow my granddaughter to play with. I would position myself at any social gathering, even at work to try to hide my parting which got wider as the years went on, these feelings never left me, it went on day after day.
I remembered putting Lucinda in my telephone book, looked up the web site and then read that there was a brand new consultancy in Edinburgh within driving distance. I arrived at The Salon on 22nd April 2014 not expecting to see Lucinda, but all of a sudden Lucinda was there to do my consultation, the surprise was so amazing, one that I will treasure forever.
Within a week my Intralace was in place. The whole experience was the best most positive thing I have ever done.The day for me was full of excitement not knowing what to expect. I would say I was happy, apprehensive, but feeling at ease immediately on arrival. I took a magazine picture of how I wanted my hair. Robyn, I knew straight away had a gift for just knowing how I wanted my hair styled along with the team who got the colour so good right down to the roots.
My daughter 'gasped' when she saw me that same evening. I thought "oh dear" but in fact she gasped because of how natural it was and she could not believe that the parting was not mine. From then on I have been adjusting to life with hair and trying family, friends and neighbors out to see what they notice. What I get is "I like your hair the way you have it" "It really suits you" "Your hair is lovely" to just nothing said. My clothes I know look smarter so I can now wear items not worn. There is now real pleasure in going out in company rather than my mind being taken over with 'my hair' 'my hair' and always that feeling of being inferior.
My husband is very ill and already I know I can cope with looking after him, hospital visits, whatever lies ahead, in fact it is making me a better person.
I am truly overwhelmed for how I feel, I am just so grateful to have come into contact with such wonderful people who have made my life very different in that I am no longer self conscious.
Hilary.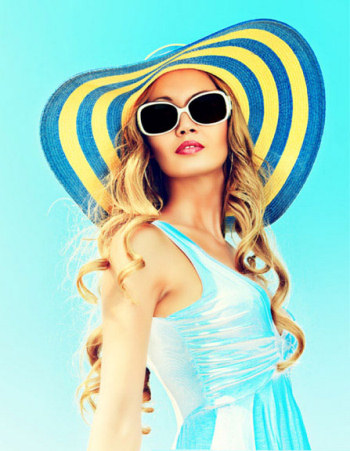 LUCINDA ELLERY
LOS ANGELES
NEWS FROM ACROSS THE POND
Lucinda Ellery is proud to feature our Los Angeles Angels this month. Our team of 6 is working very hard to develop our newest client base from all over the US. Our Beverly Hills salon is now home to many lovely and beautiful clients from all over the United States as well as Canada. We love having our Canadian clients fly down to visit us. In such a beauty conscious city we make it our absolute mission to make all of the women who step in feel beautiful on the outside as well as in. Led by Micky as well as our salon manager Mari, our team loves the tight knit family that we've created here.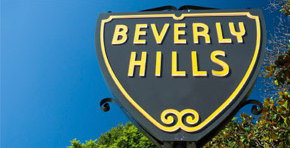 IS THE CALIFORNIA SUN GETTING YOUR HAIR DOWN?
FAVORITE SUMMER TIPS FROM OUR BEVERLY HILLS TEAM
Lucinda Ellery clients know that having an Intralace doesn't mean that you have to skip the California sun. The best tips we give to our clients who love to surf, swim, and spend time at the beach is to avoid using too many heating tools. At this time of the year a lot of our California girls love doing the tousled look of natural beachy waves. Also, before hitting the waves make sure to add leave-in conditioner, such as Kerastase Nectar Thermique. It works best when used in towel dried hair. Nectar Thermique is also a heat protector, helping protect your hair from the sun and heat-styling tools. Our friendly stylists would love to show your how to achieve a fun beachy-girl look at your next appointment. Enjoy the rest of your summer.
BEVERLY HILLS TTM AND CUPCAKE EVENT
Lucinda recently threw her first TTM cocktail and cupcake event in our Beverly Hills salon. For some of our clients, this was the first time they had ever met another who was just like them. Lucinda, clients, and staff all sipped champagne and shared their heartfelt stories into the night. It means the world to us that we can bring these lovely girls together. The 15 girls who attended even made their own Facebook page so they can keep in touch and give each other the support needed.

LUCINDA ELLERY
IN THE PRESS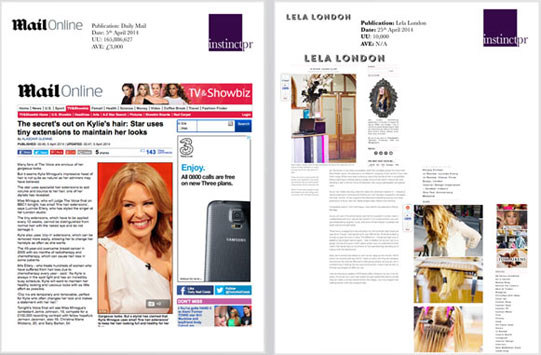 Back to the Newsletter Contents page