Female Pattern Hair Loss
Female pattern hair loss (FPHL) is also widely known as Androgenetic Alopecia. It can start as early as puberty, but occurs most commonly after the menopause.
100 - 150 Hairs Shed Naturally Every Day
On average, the human head holds up to an astonishing 150,000 healthy hairs. All of us shed hair on a daily basis. Hair loss only becomes visible to the human eye when more than 100 hairs are frequently shed. With FPHL, when the affected hair is lost, the one that grows back in its place will often be finer and weaker. Before long, the re-growth begins to resemble a kind of 'peach' fuzz, which in turn becomes a source of distress to many women.
Mild FPHL
Mild FPHL is the most common form of women's hair loss globally. It is a genetically linked condition and can be inherited from both sides of the family. It can usually be managed fairly simply with scalp make-up and hair styling, or by using our Medi Connections™ (ultra-fine and very safe hair extensions), which typically last around three months. As with all of our services, we are happy to offer advice and help with these.
Severe FPHL
While not as common, severe FPHL is more difficult to treat as the hair loss is often not drastic enough to require a wig, although it can still be upsetting and wield an intense psychological impact. The use of make-up to disguise the thinning areas around the parting is frequently not very effective, as the make-up can occasionally be detected in bright lights and sunshine when the hair density is less than 50%. In these circumstances, we usually recommend one of the Intralace Options. At your consultation we will confirm if the Intralace Minima or the Main Intralace System would be the most suitable option for you. They are both extremely effective ways of disguising the hair thinning or hair loss and need to be maintained by us approx once every 6 weeks.
The initial application of the Intralace Minima costs £745 and is durable for 6 to 8 months. It requires maintenance appointments on average once every 5 weeks at a cost of between £65 and £90.
The Main Intralace system is bigger and is durable for two years. It requires maintenance appointments every 6 to 8 weeks so that we can look after your regrowth and the average maintenance appointment is for an hour and a half to two hours at a cost of £90 per hour.
Medi Connections ™
before
after
Intralace System ™

before

after
Intralace Minima ™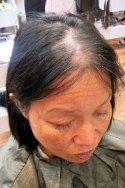 before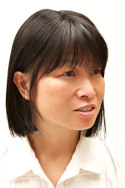 after
Conventional Medical Treatments for FPHL
Minoxidil
Is a topical lotion that is used to help stabilise hair loss and encourage the hair to re-grow. It can be purchased over the counter, but has a lower strength than many may require. The more effective 5% solution must be prescribed by a doctor.
Spironolactone
Is an oral medication that has had some good results in stabilising and improving hair growth.
Propecia
Can be used by post-menopausal women, although its overall benefits are still to be fully determined.
Anti-androgens
There have been some promising results with a medication called Dianette in slowing down the rate of FPHL.
All these treatments require continuation of treatment. Once the medication is stopped the FPHL cycle begins again.