Alopecia Areata (AA)
AA is the term used to describe the patchy loss of hair on the scalp or body. It is more common than many people might think, and the condition affects one person in every 100. This means that of Britain's 70 million population, around 700,000 will be struggling with AA.
What is it?
Alopecia Areata most commonly affects younger women and children. The condition is due to an auto-immune response, where the body forms white cells that attack the hair follicles which produce hair. It causes hair growth to stop, and the follicle enters a resting phase of its cycle which leads to hair loss.
Follicles usually remain capable of regrowth
With AA there is no physical loss of the follicles in the scalp, and they often remain capable of re-growing, even if a sufferer has had AA for years. Despite this, the condition is unpredictable and hair growth may fluctuate accordingly.
The team at Lucinda Ellery usually help clients with the Intralace System™, which is durable for two years. Maintenance of the re-growth (where the hair is growing normally or new re-grown hair appears) is normally required every six to eight weeks.
A doctor or dermatologist's diagnosis of AA
Most cases of AA are characterised by a shiny patch of scalp that becomes visible through the hair and feels silky smooth. Around this patch, the hair is thin at the roots and breaks off, leaving behind stubble, which is extremely fine. Often, the entire hair shaft resembles an exclamation mark.
To diagnose AA, a doctor or dermatologist will closely examine the scalp and may take a small biopsy. A plug of less than a quarter of an inch is enough to examine under a microscope. Subsequent treatment depends on the extent of the condition.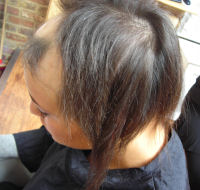 before

after
AA can improve over time
Alopecia Areata is a very unpredictable type of hair loss. For some clients one or two patches may develop and then the hair fully grows back. In other cases clients can experience rapid hair loss which can sometimes result in total hair loss. The hair will sometimes grow back but it may then fall out again. Many people will need to manage Alopecia Areata for a number of years.
TV Star Gail Porter has shown immense courage when her blonde hair fell out at an extremely rapid rate due to Alopecia Areata. She chose to be open about her hair loss and made the brave (but unusual) decision to not cover her hair loss. Like many others she has had periods where some of the hair has grown back and she has also had periods of total hair loss.
Costs
The Intralace System is normally the most suitable of our options for clients that are managing Alopecia Areata. Approximate costs would be between £900 and £1800 for the initial application of the system which is durable for two years. Maintenance appointments are required every 6 to 8 weeks at an approx cost of £135 to £180.