The Lucinda Ellery Hair Loss Consultancy
Proudly providing 21st century hair loss management and hair replacement solutions exclusively for women who want to look and feel incredible
before and after Intralace™
before and after Intralace™
before and after Medi Connections™
See more examples of women using the Intralace System™ and Medi Connections™
**New Studio Open in Solihull, Birmingham**
We're delighted to announce that our latest studio has now opened in the Solihull area of Birmingham. It's situated at 157 Warwick Road and we look forward to welcoming new clients from around that area. If you'd like to enquire about it or make an appointment then you can contact us via this email form.
Lucinda Ellery Helps Women Across the World with Hair Loss Issues
Ever since 1984, Lucinda Ellery has been the number one choice for women searching for glamorous and life-changing hair restoration, which is also safe and secure. With salons in London, Manchester, Edinburgh, Bristol, and now in the Midlands in Solihull, Lucinda also began offering her expert services in Los Angeles in 2012 and more recently opened in New York. (US readers please visit our US website)
Helping Women with Hair Loss
Our studios offer creative, individualised hair restoration solutions for women suffering from varying degrees of hair loss. We understand that you want your hair to look both natural and fabulous.
We look forward to welcoming you to one of our Studios and helping you to look your best.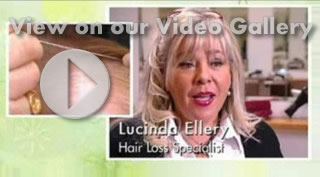 Watch the Lucinda Ellery Amazing Hair Loss Intralace Makeover on 10 Years Younger
Whatever the Cause
Just click on the hair loss conditions below to find out how we can help you, and give you a gorgeous head of hair again!
A New Approach to Hair Loss Treatment
Sadly, chronic hair loss is not something that can be magically cured by your GP, and all too often it seems that the medical profession does not take the condition seriously enough.
Lucinda knows first hand the devastating effects of hair loss. She lost her father when she was just 10 years old and her hair immediately started to fall out. This inspired her to create a unique hair replacement system to improve the density and appearance of a ladies hair.
Lucinda Ellery Options to Suit You
Our options are specifically designed to provide you with choices. They include:
Scalp make-up
Styling advice to cover thin patches
Not only do we provide practical answers to your hair loss problems, but most women who come to see us find invaluable psychological comfort from us, and from others who are in similar predicaments. We can help you - so please call us today!
The Intralace System on Channel 5's
The Wright Stuff Extra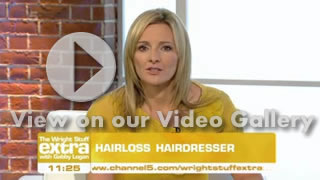 Watch Hannah Westwood being interviewed by Gabby Logan about using the Intralace System™ to combat hair loss following radiotherapy treatment.

The Intralace System on Channel 4's
Daybreak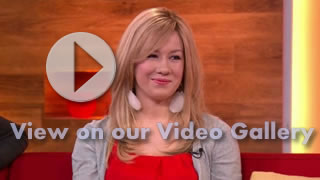 Watch India Barnes being interviewed about overcoming Trichotillomania
Using the Intralace System™ to combat hair pulling..