A wig is a head of hair normally made from either human hair or synthetic materials. The word wig is short for Periwig and first appeared in the English language around 1675. Historically wigs were classed as a status symbol hence the term "big wig".
Wigs can be used for many purposes: as a cosmetic accessory for a fun change of style,  sometimes in the context of religious practice of cutting or shaving one's natural hair. Actors of course often wear costume wigs in order to portray characters in film or theatre, but most commonly people use wigs to disguise hair thinning or hair loss. In recent years the demand for Human or Real hair wigs has surpassed the demand for synthetic wigs but it comes down to personal choice and there are pros and cons for both.
Synthetic Wigs
Synthetic wigs are made of artificial fibres. They can be handmade or machine made and are normally created on a base of lace. The key points about synthetic wigs are:
The Good
They are relatively inexpensive (prices range from approx £70)
They hold their style very well so this eliminates the need for daily styling
Synthetic Fibres hold their colour permanently, no dying required!
If you are open about wearing a wig then you can experiment with fun colours
Synthetic Wigs are normally what is supplied by the NHS for clients having chemotherapy or for clients with hair loss problems.
The Bad
They need to be washed carefully (not whilst on the head), it is important to follow the after-care guidelines of the supplier or manufacturer. You cannot treat synthetic hair like your own natural hair.
Synthetic hair has a shine to it which can look unnatural (like a dolls hair)
The strands can burn easily so you need to be careful with heat from a hair dryer and you cannot use straightening irons or curling tongs
These wigs are often ill fitting unless you pay for one to be made to measure
They can have too much volume, making them appear unrealistic
Human Hair Wigs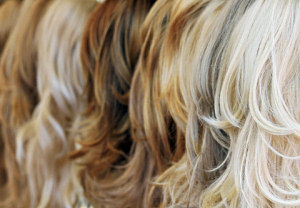 Indian or Chinese hair are commonly used to make real hair wigs but European hair and Virgin Russian hair can also be used. It's all about what suits your budget but Russian Virgin hair is apparently the best hair that money can buy. Here are some points to consider when thinking about getting a real hair wig.
The Pros
They are made with real hair so can be very natural looking
They can be treated like your own hair in terms of styling products, styling tools and hair dye
As well as looking natural, the hair is real so it feels real to the touch
You can wash it and brush it just like your own natural hair
The Cons
They can be expensive; especially if you are buying a bespoke one
They don't tend to hold colour well and the quality can be affected if repeatedly dyed
Human hair wigs will need to be styled almost daily or at least every time you wash your hair
They have a limited life span
The Problems with both Human Hair Wigs and Synthetic Wigs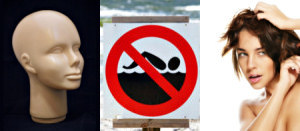 While there may be arguments for and against for both, the common negatives for both synthetic wigs and human hair wigs are:
They have to be removed at night, you cannot sleep in them
They could come off at any time as they're not secured to the scalp
You cannot swim in them and many activities would be impossible whilst wearing a wig
Choosing a More Permanent Option – The Intralace System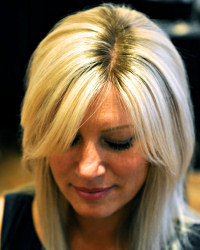 Those three factors are the main reasons why many women choose to use something more permanent like the Intralace System.
If you're suffering from partial hair thinning or hair loss then the bespoke Intralace System will give you more freedom than a wig and it also looks incredibly natural. It is integrated with your own hair so you can wash it, brush it, sleep in it and swim in it. You wear it 24 hours a day. You can use it while you are waiting for your own natural hair to regrow or if you are managing a permanent type of hair loss or thinning then you may choose to use it as a hair management option for life.
If you have total hair loss then you may choose to use the Intralace Freewear as this can be worn for longer periods of time than a wig or hairpiece. It is secured to the scalp using a combination of skin-friendly tape and liquid adhesive. You can sleep with the system still in place. The most scrutinized part of our hair is our hair line and the hair line created by the Intralace Freewear option is convincingly natural looking.
Wigs May Still be a Good Choice for Some
Wigs can be a good choice for many women while they are managing their hair loss. Perhaps they are more appropriate for temporary types of hair loss as it seems inevitable that you would get tired of the restrictions associated with wearing a wig. Much depends on your budget and your life style. Thankfully the appearance of wigs has improved dramatically over the last few years so take your time when choosing the right style and the right colour. An initial consultation with your chosen provider is the best way forward.
Here are some helpful contacts:
Trendco (large selection of both Human hair and synthetic wigs) head office 0207 221 2646, www.trendco.co.uk .
Mandeville Wigs (High end Human hair wigs) 020 8741 5959, www.mandeville-wigs.co.uk
and of course ourselves
Lucinda Ellery Consultancy (Intralace System and more permanent hair loss solutions) head office 0208 741 8224, www.lucindaellery-hairloss.co.uk